At CCL, we've been utilizing social media platforms to increase vaccination rates in Latino families based in San Mateo County, California. We've recently analyzed an ad campaign on Facebook and Instagram that featured single-image ads with three distinct messaging approaches.
A directive message ("Get vaccinated in your city!")
An incentive-promoting message ("Win [incentive]!")
A fact-based message ("Over 98% of COVID-19 cases…")
‍
Our goals were two-fold:
(1) gain insight into advertisements most engaging to Latino residents of San Mateo, California, and
(2) identify whether Facebook or Instagram might lead to higher engagement levels, as measured by user clicks on the ad itself.
‍
We've analyzed data from our testing that includes over one million impressions in the month of July 2021.
Top-Performing Ad
Our top-performing ad as measured by the most clicks from social media users across both platforms featured the fact-based ad copy message. We ran this ad copy across all users, in both English and Spanish: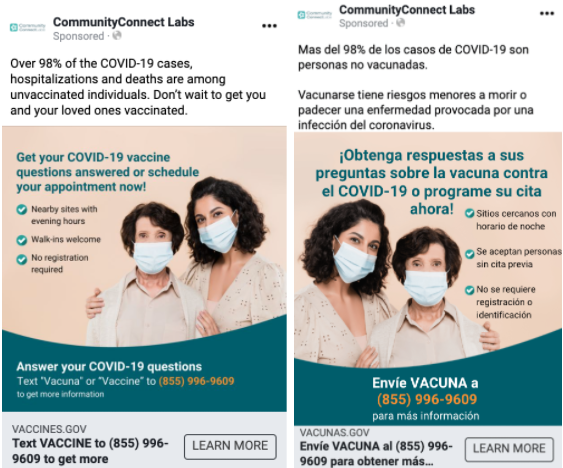 In addition to testing different ad copy, we wanted to also evaluate the reach, engagement, and utilization opportunities of Facebook and Instagram. These platforms were selected in part due to their ubiquity among users, and their relevance to our target audience.
Facebook
When evaluating the most cost effective advertisement (as measured by cost-per-click), the directive ad copy performed best with both Spanish-speaking ($1.55 per link click) and English-speaking ($1.41 per link click) audiences, though do note that the associated images differed.
Most cost-effective ads: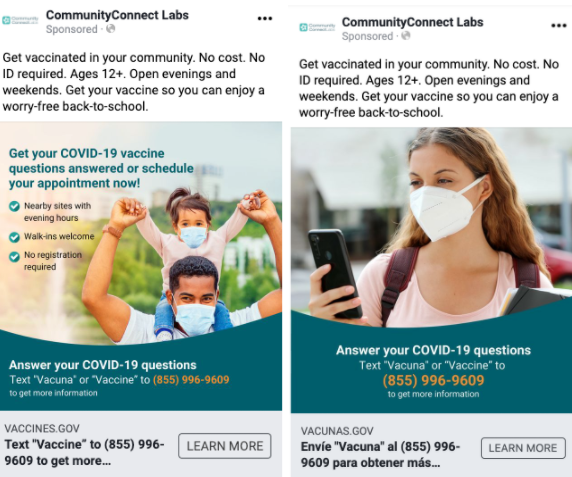 ‍
Instagram
The ad on Instagram that earned the most clicks was the same for both English and Spanish audiences! This high-performing ad (shown here in English) showed 5X engagement over the second-most engaging advertisement (below).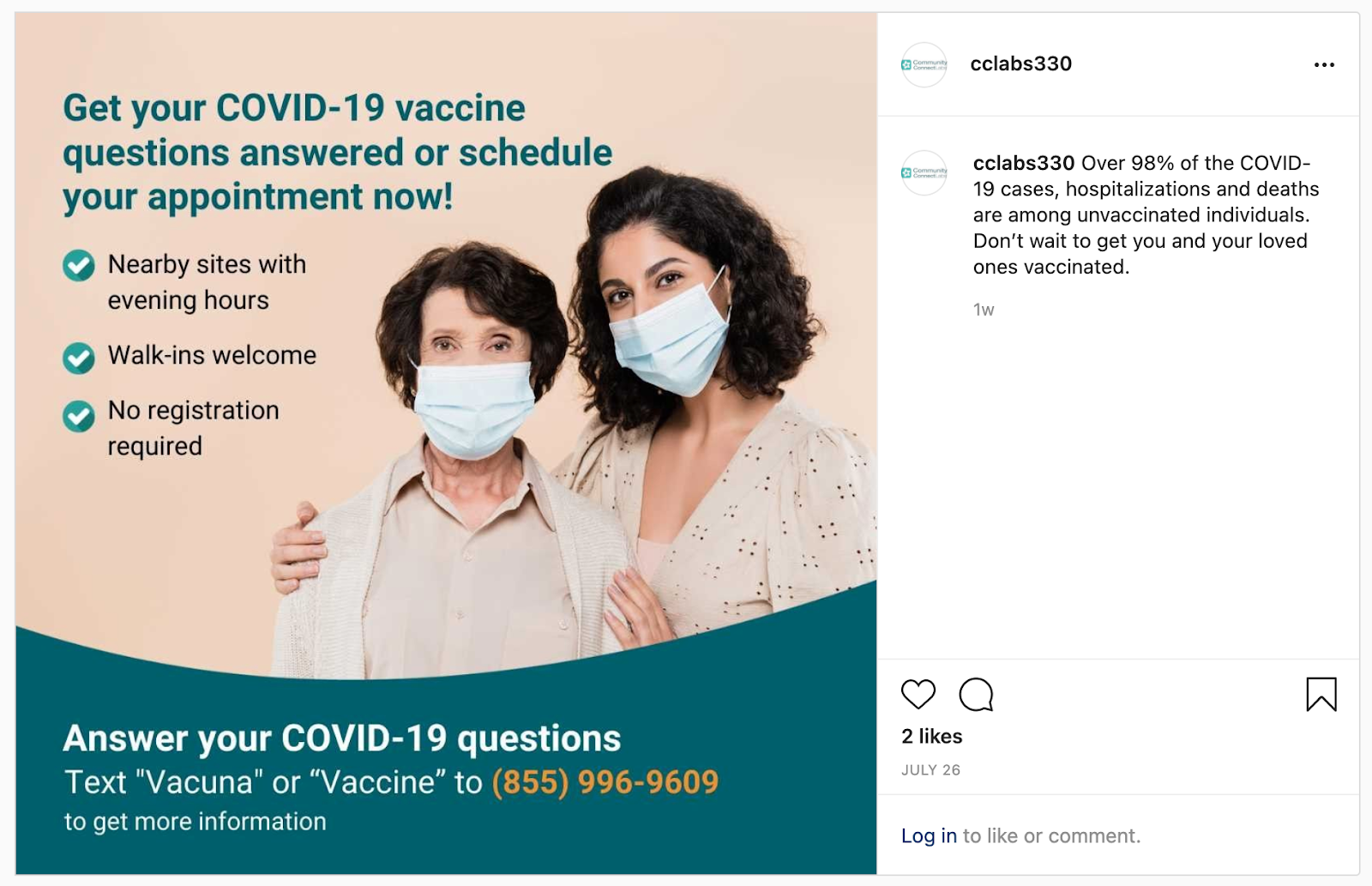 The top-performing Instagram ad included:
Fact-based ad copy
Straight-forward information
An image that evokes familial connection
Our runner-up Instagram ad (shown below) did generate engagement in the form of clicks, likes, and shares, but at a significantly higher cost-per-click ($4.33 versus $2.46).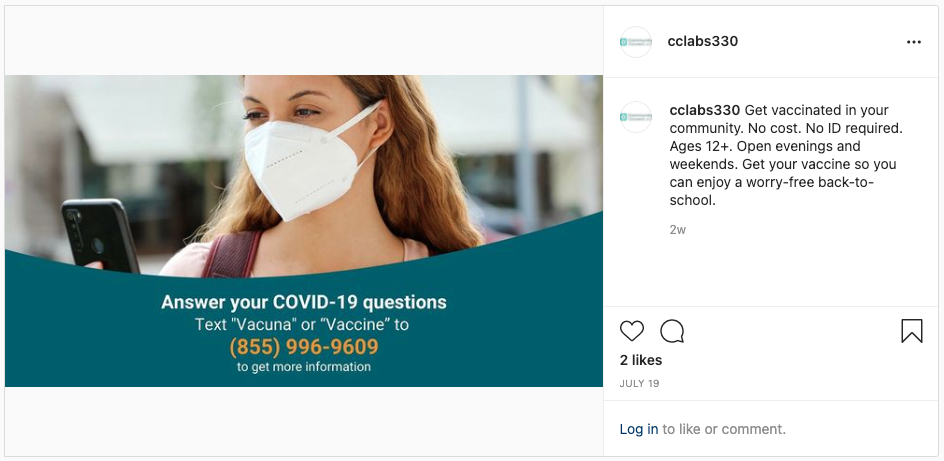 Recommendations
Our takeaways?
With single-image ads, fact-based messaging appeals most to Latino audiences, followed by directive messages.
Facebook engagement was higher and with a lower cost-per-click than Instagram, though both platforms saw strong engagement as measured by user clicks. Of note, the Instagram audience skewed a little younger, so depending on your target audience, consider splitting advertising budgets accordingly to maximize your ability to reach different audiences.
On Instagram, English-speaking and Spanish-speaking audiences favored the same visual image and ad copy pairing. (This may indicate the relevance and timeliness of this particular ad, but it may also suggest that to those on restricted budgets who are looking to optimize their reach, offering a really strong advertisement that is the same in English and Spanish may be a smart use of resources.)
Among Spanish-speaking populations, our ads that included families out-performed images of individual people.
Curious to know how your ad copy stacks up? Need to revise your outbound communication strategy or social marketing language based on what works? Talk to us.
‍
This project has been made possible in part by a grant from Silicon Valley Community Foundation.