The State of California has just published its Census Allocation Plan!
‍
California Counties Can Receive $26.68 million
LA County: $9.39 million
Santa Clara County: $963K
Alameda County: $843K
San Francisco County: $546K
Contra Costa County: $362K
Award amounts for all counties here. (Note: Cities are not eligible to apply for direct funding from the State but can partner as subcontractors with their County. Counties must document how they will collaborate and coordinate with cities before they can receive funding from the State)
‍
Requirements for Participating Counties:
Board Resolution to Opt-In
Establish a Local Complete Count Committee
Submit Strategic Plan for State approval
Regular monthly and quarterly meetings with the State Regional Program Manager (RPM) assigned to each county
Quarterly Reporting
Implementation Plan (Including non-response follow-up)
Final Report
Upcoming Deadline for Counties:
2/9/2019 for Opt-in/Out with Board Resolutions
3/19/2019 Submit Strategic Plan
‍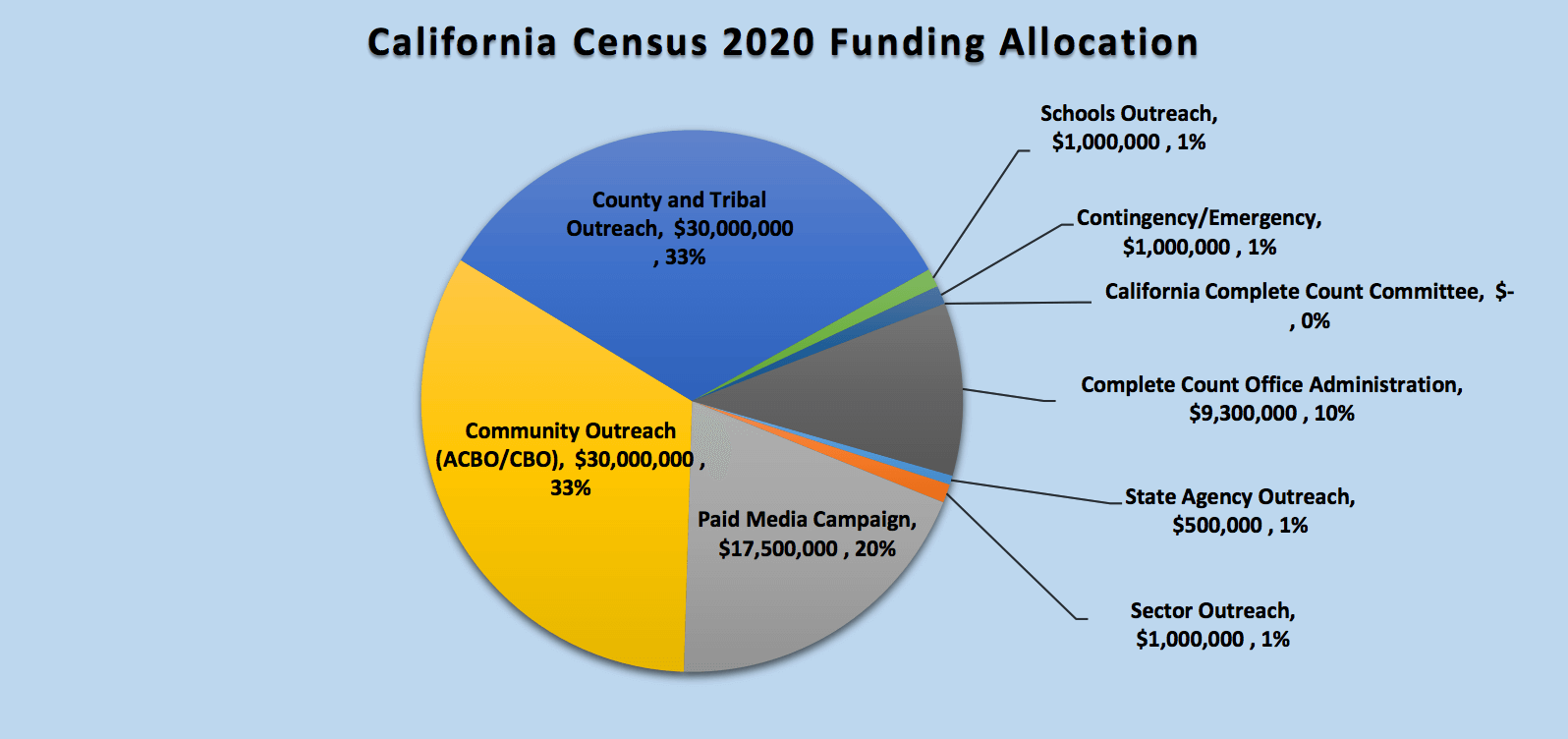 ‍
Community Based Organizations Can Receive $30 million

Funding will be primarily be provided to Administrative CBOs for 10 regions in California. ACBOs "are large CBOs or foundations with the administrative capacity and experience to conduct robust outreach throughout an entire region." ACBOs can subcontract with local CBOs.
ACBO(s) and CBOs in LA County: $8.46 million
ACBO(s) and CBOs in the Bay Area: $2.81 million
ACBO(s) and CBOs in Orange County: $1.4 million
See all ACBO and CBO regional funding here. Requirements for participating ACBOs will be released with the RFP in December
‍
Upcoming Deadlines for ACBOS:
12/14/2018 State releases a regional and also a statewide RFP for ACBOs
2/15/2019 Deadline for RFP responses
3/15/2019 State Issues Notification of Awards
Two other items to note: the State is providing funding in the form of contracts, not grants, to provide more oversight of its funding recipients. Small, community-based nonprofits can partner as subcontractors with both ACBOs and County governments.
Read more details about the timeline and FAQ at https://census.ca.gov/2018/11/09/funding/