At CCL, we've been utilizing social media platforms to increase vaccination rates in Latino families based in San Mateo County, California. We've recently analyzed a bilingual ad campaign on Facebook and Instagram using three distinct messaging approaches, single-image ads and video content. Read what we learned about ad copy messaging and single-image ads here.
‍
Our goals with social media were two-fold:
(1) gain insight into advertisements most engaging to Latino residents of San Mateo County, California, and
(2) identify whether Facebook or Instagram might lead to higher engagement levels, as measured by user clicks.
We've analyzed data from our testing that includes over one million impressions in the month of July 2021.
Top-Performing Ad
Our top-performing ad as measured by the most clicks from social media users across both Facebook and Instagram featured the following video:
‍
‍
The cost-per-click of the two video ads (featured here with slightly different ad copy) ranged from $0.69- $0.74 on Facebook. By comparison, the lowest-cost-per-click of the single image ads we ran in the two weeks prior had cost-per-click amounts ranging from $1.41-$1.55. Our video advertisement cost 50% less-per-click, which means our ad budget garnered 2X engagement when we switched to video.
‍
‍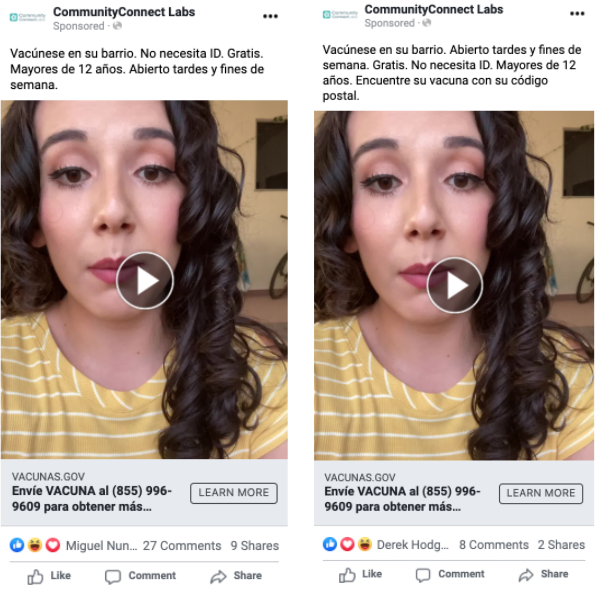 ‍
Additionally, our video ads scored above-average engagement rankings, collecting far more comments, likes, and shares than any of our single image ads.
Recommendations
Our takeaways?
Video is likely to earn 2X user engagement on Facebook and Instagram when compared to single-image ads.
Video advertisements do not need extensive editing or polish to catch user engagement. (Best practice: Include captions on the video!)
Ad copy seemed to matter far less when paired with video advertisement than single-image ads: our analysis showed no significant difference in engagement across different ad copy with video ads.
Assign someone to monitor your advertisements who can respond to comments, and build relationships with your constituents.
‍
Curious to learn how others are leveraging social media to promote health outcomes among vulnerable populations? Needing to launch a multidimensional digital outreach strategy? We'd love to hear from you! Talk to us.
This project has been made possible in part by a grant from Silicon Valley Community Foundation. Special thanks to Alejandra Salemi for permission to share her advocacy.