OVERVIEW OF THE PROBLEM:
Covering Wisconsin faced three discrete challenges:
Applying for health insurance was time-intensive, with staff members spending 5-20 mins for general inquiries and 1-1.5 hours per appointment for new enrollment.
There was no tracking mechanism or consumer satisfaction report to know if individuals were being routed to the correct agencies for support after seeking help via the web, and
Live assistance was available only via phone call or in-person appointment.
‍
WHAT CCL IS DOING ABOUT IT:
CCL developed a digital eligibility screener with live chat functionality for consumers in the state of Wisconsin to connect with licensed professional health enrollment navigator staff. Consumers can self-determine their eligibility and then choose their next step, including chatting real-time, scheduling an appointment, requesting a callback, or getting a list of agencies who can help them with enrollment. The screener is available in English and Spanish, accessible via web and SMS, collects consumer satisfaction data, and provides the option to opt-in to future messaging campaigns.
‍
PROGRAM GOAL:
Our goal is to improve the process of healthcare enrollment for consumers and the staff who serve them. With this project, we will develop a baseline for consumer satisfaction scores, reduce average staff time per consumer inquiry, and improve the data available on referral accuracy.
‍
RESULTS:
In the first six months of operation:
83% of visitors rated the eligibility screener and chat tool as helpful. Those who did not rate the tool as helpful reported that they remained uncertain of which healthcare plan to apply for, indicating that in-person assistance may be critical to increasing consumer confidence in decision-making.
11:10 is the average time for a live chat ticket
Referrals are tracked by zip code, preferred language, and county. Real-time reports are available to show assistance requests by geographic area: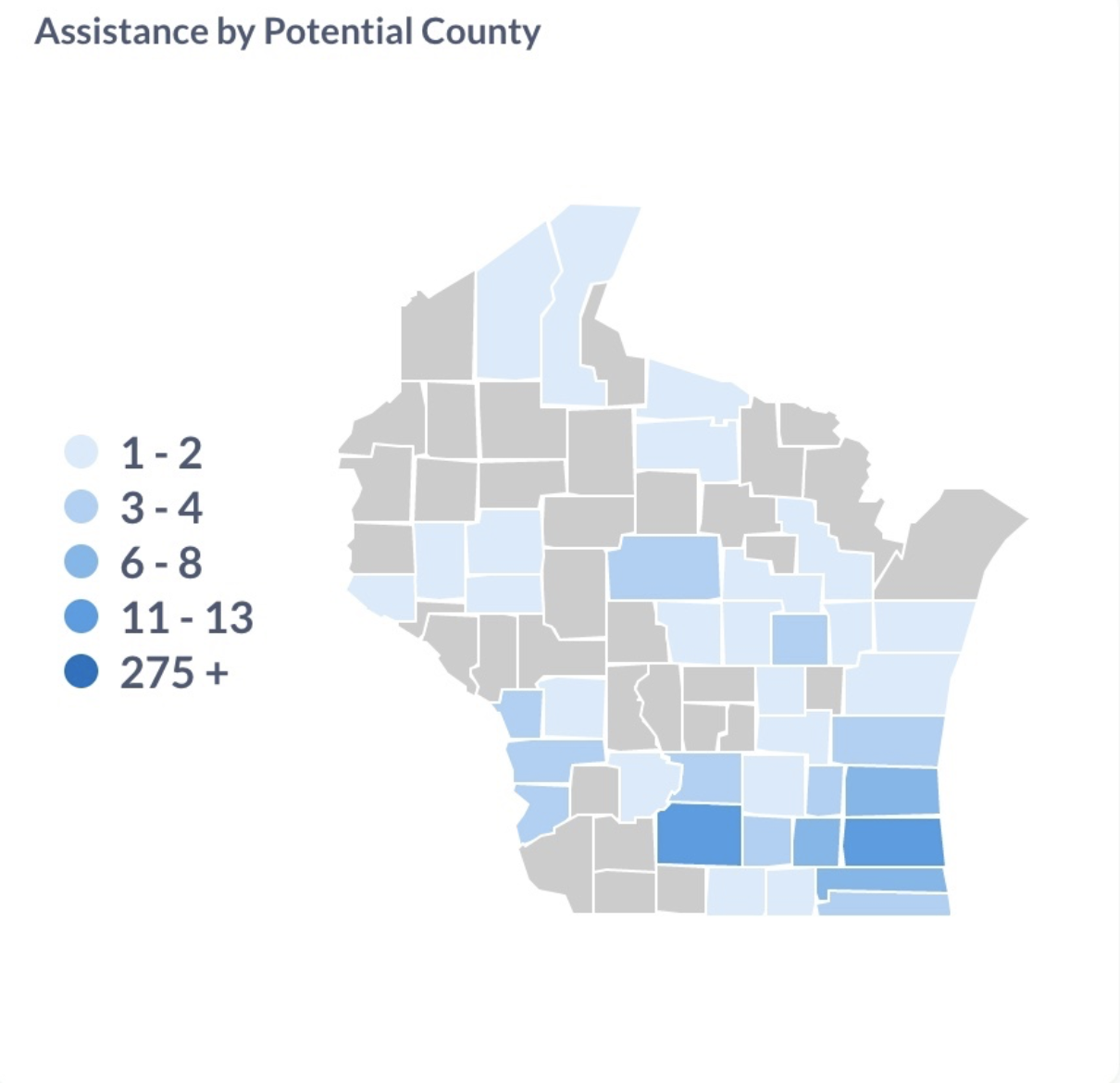 KEY TAKEAWAYS:
What worked:
Empowering consumers to self-determine eligibility: 54% of visitors completed the eligibility screening before connecting with staff
A $2M marketing campaign by Covering Wisconsin ensured that consumers across the state were made aware of the tool
Health Enrollment Navigator staff were trained to conduct their role via chat (as opposed to phone call or in-person appointment), and implemented pre-written canned responses for the most frequently asked questions, saving time and effort
‍
What didn't work:
The initial version of the tool did not include any wait time notification for those who requested live chat assistance. We implemented an update that automatically informs consumers of any potential wait time and offers them alternatives to waiting.
Some consumers initiate a chat request and then don't respond to messages from a staff member and this can lead to frustration from navigator staff who field chat requests throughout the work day. We created a custom status indicator for these chat requests to reduce administrative overhead.
‍
CCL Solutions Used:
Text Reminders
Interactive Surveys
Eligibility Screening
Intelligent Referrals