State investment in community-based organizations (CBOs) is critical to achieving a fair and accurate 2020 Census. These organizations ensure the enlistment and activation of local, trusted community voices who help focus necessary additional outreach on skeptical and Hard-to-Count (HTC) households. They often also act themselves as trusted messengers and allies with HTC communities as service-based, labor, grassroots, and advocacy groups at the local, state, and national levels.
Because Census data collected during the initial self-response period historically are the most complete, accurate, and cost-effective — counting during the non-response follow-up (NRFU) period is costlier, more challenging, and more likely to miss or inaccurately count people — CBO outreach should focus on maximizing the self-response rate.
The resource below estimates the 2020 Census Outreach costs, by state, for HTC communities. The analysis is a collaborative effort of the Center for Urban Research at the CUNY Graduate Center, the Fiscal Policy Institute, State Voices, and the Leadership Conference Education Fund. The analysis provides a methodology to estimate the amount of money states could allocate to community-based organizations for outreach. There is also an associated Excel spreadsheet that calculates an estimate for all 50 states.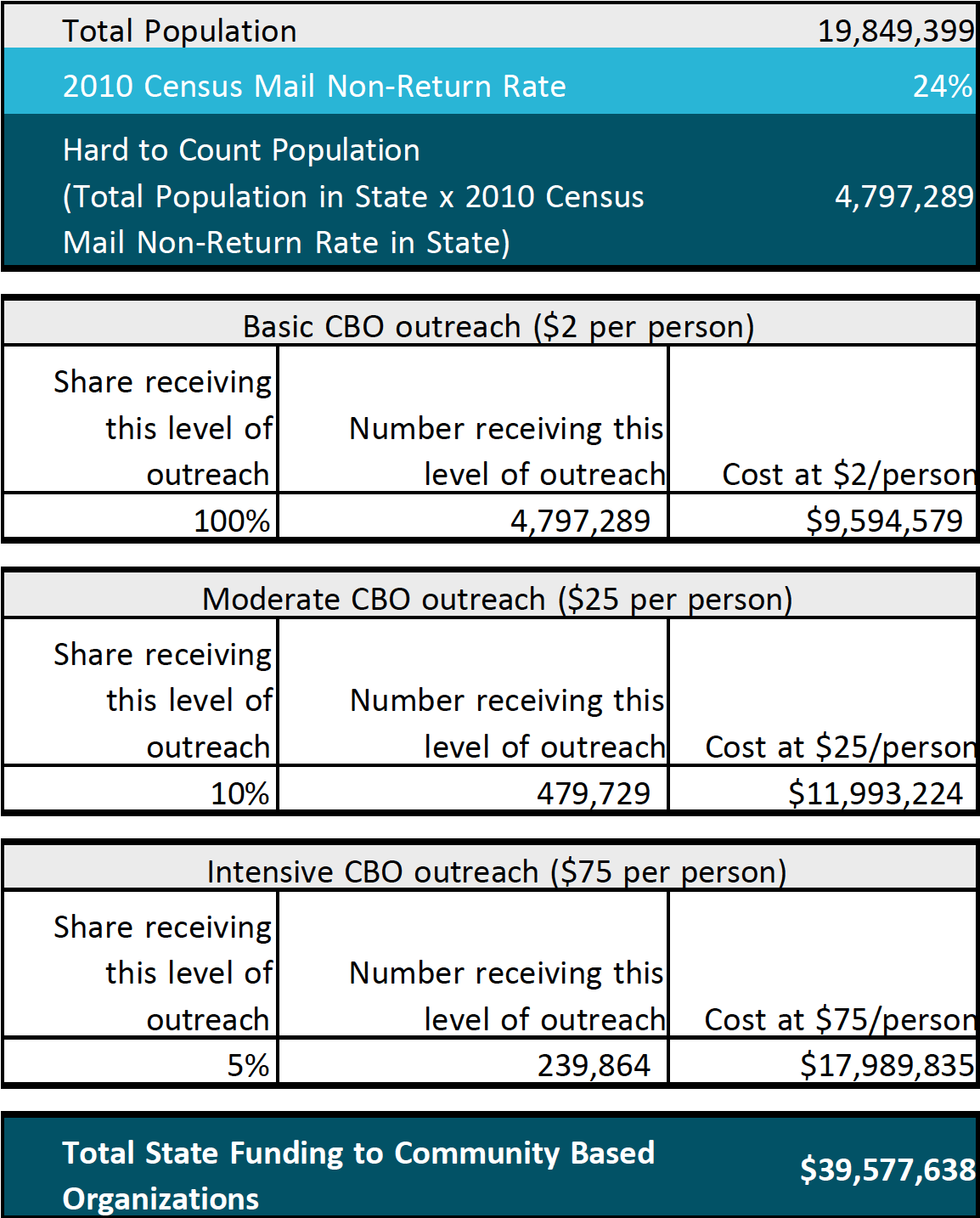 The calculations from the chart come from the percentage of households that did not respond by mail for the 2010 Census, the cost of CBO outreach per HTC person by state, and the number of HTC people determined for each level of outreach.
The chart highlights the three levels of outreach necessary depending on the difficulty of counting HTC households. Basic outreach, which all HTC households should receive, includes sponsoring informational events and marketing at community centers. Moderate outreach, which 10 percent of HTC households should receive, includes the basic outreach plus more direct outreach and conversations with community members. Intensive outreach, which 5 percent of HTC households should receive, includes more extensive iterations of basic and moderate outreach, as well as substantial in-person, in-language contact with limited English proficiency households, homeless populations, and people with limited web literacy and/or limited web access.
To learn more and get involved, visit www.censuscounts.org or email [email protected]