CommunityConnect Labs CensusOutreach solutions were recently highlighted in Twilio's Customer Stories. We are proud to be powered by Twilio in our SMS-based outreach to count hard-to-reach communities in the Census, ensuring fair representation and millions of dollars in public funding for the next 10 years. ‍The text from Twilio's post has been reprinted below. The original post is available here.
‍
CommunityConnect Labs is a non-profit organization offering government and public service providers customer service technology solutions to connect with the communities they serve, enabling government and service providers to use mobile messaging to connect with hard-to-reach populations.
‍
When people receive a postcard from the government asking them to fill out a survey every 10 years, many will ignore it. That's why participation in the U.S. Census has decreased 15 percent over the last 40 years.
‍
CommunityConnect Labs is changing that.
‍
Created by the team behind GreatNonprofits, CommunityConnect Labs is a non-profit organization that enables governments and their service providers to use mobile messaging to connect with hard-to-reach populations. They're using technology to create more accessible and inclusive resources to change participation outcomes, and Twilio helps them do it.
‍
Why the census matters
One main challenge affecting census participation is that many people do not understand how the survey is used.
‍
Census data influences planning for nearly every public sector. Federal, state, and local governments rely on census data to inform decisions on housing projects, political boundaries, nonprofit funding allocation, school populations. Those who stand to benefit the most from being recorded through census data are often the least likely to fill out the form.
‍
"Historically, one of the reasons hard-to-reach communities were deprived of representation is because these communities were not captured in official statistics," said Jacob Model, VP of Product and Data at CommunityConnect Labs. "Without an accurate count, we aren't able to quantify systemic problems and discrimination that can exist."
‍
It's no surprise underrepresented communities can be skeptical about a survey that asks detailed questions about location, homeownership, age, and race, without clarifying how the answers will be used. Undocumented communities, for instance, fear the data is being used to jeopardize their residency in the U.S.
‍
The negative impact is profound. Every miscount means a wider gap between what a community needs to thrive and the resources offered to support those needs, and along with that comes an onslaught of other issues.
‍
Breaking down barriers with accurate information
To address this problem, CommunityConnect Labs partnered with 17 states, nonprofits, and national advocacy groups to create widespread and accessible resources to close the information gap about the census using Twilio-powered SMS.
‍
The organization's SMS platform integrated Twilio to power connectivity for SMS, WhatsApp, and web-based chatbots.
‍
"Twilio was easy to integrate and helped us scale up to message thousands of people," said Model.
‍
CommunityConnect Labs worked with many states to drive census participation, including Minnesota. Together, they created customized resources for their residents delivered via SMS, using Twilio Lookup, a phone number verification service, to ensure the state was reaching out via text to valid mobile phone numbers.
‍
They also created more accessible and inclusive services and resources for Somali and Hmong communities, such as in-language FAQs and advocacy campaigns. They found that Minnesota far outshot similar states in participation on the days CommunityConnect Labs partnered with them for outreach. As of writing, the state currently has the highest response rate in the country at 71 percent, compared to the national average of 61 percent.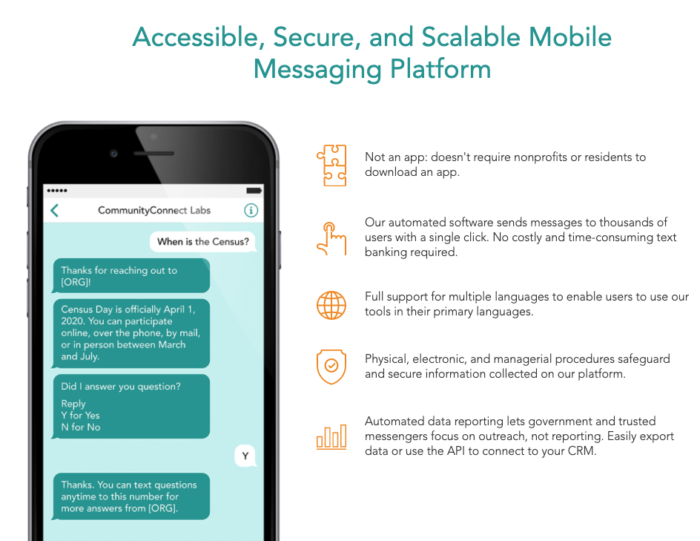 Creating accessible resources
The CommunityConnect Labs team knew communities would wonder why they should fill out the census, and how their data would be used.
‍
In anticipation, the team created a companion chatbot for survey respondents to ask questions. When creating the chatbot, CommunityConnect Labs tested numerous tech products and channels of communication before finding a winning combination. They utilized Rasa, an open-source AI framework, to process incoming questions and tested two channels: Twilio SMS and their homegrown webchat on their website.
‍
They soon found 80-90 percent of people were using SMS versus the webchat to seek information. From teenagers across the nation, and Latinx communities in Pacifica, to elderly populations in Minnesota—SMS was a channel that would reach across these varied groups and provide important information about the census quickly and efficiently.
‍
People could text a multitude of questions to understand the census, including: "When is the census deadline?," "Can I get a paper form?", "How do I know if this is a scam, or if it's real?" They also embedded language detection technology that would route texts to the appropriate language chatbot.
‍
Due to COVID-19, the census deadline was pushed back from mid-July to October 31. With distancing orders, the federal and state governments have been unable to hold crucial events and deploy in-person canvassing, making digital outreach and SMS all the more important in driving participation.
‍
"We need our products to be multilingual and accessible; this is why Twilio is a natural partner."
– JACOB MODEL, VP OF RESEARCH, COMMUNITYCONNECT LABS
‍
Every household counts
To date, CommunityConnect Labs supported the census participation of 50,000-100,000 households. Every single household matters for distributing community funding. The number of people the government believes lives in an area formulaically influences more than 1 trillion dollars a year for services such as hospitals, schools, roads, and parks. Furthermore, as electoral districts are based upon census counting, households can make the difference between an area gaining or losing political representation.
‍
For CommunityConnect Labs, Twilio SMS has allowed its partners to break down unnecessary barriers for many when it comes to participating in the census. "The clients we serve are busy," said Model. "It's our job to absorb the complexity of answering the census and make them feel like they're texting with a relative or a friend."
‍