The Census is designed to count every resident in the United States, and it does so every ten years. The data collected is used to distribute over a trillion dollars in federal funds to states and localities for programs residents rely on, such as Medicaid, Medicare, and Head Start, and services such as hospitals, roads, and parks. The Census also tells us who we are and where we are going as a nation. It is used to draw the lines of legislative districts and reapportion the seats each state holds in Congress. In fact, an accurate count can be the difference between an area gaining or losing political representation.
‍
CommunityConnect Labs worked with the State of Minnesota on its outreach for 2020 to ensure that every Minnesotan was counted.
How 2020 Was Different
For the first time, all households could answer the Census online or by phone, in addition to returning their Census form by mail. And just as outreach was slated to begin, the COVID-19 pandemic began ravaging the country. As a result, communities nationwide were heading into lockdown, and the traditional ways of doing outreach – tabling, events, and in-person canvassing – just weren't possible anymore. Add to that a summer with Minnesota at the epicenter of nationwide social unrest after the death of George Floyd, shifting Census deadlines, widespread economic hardship, and a President who, before the census started, had pushed for an additional citizenship question, and you've got yourself an extraordinary undertaking that requires new ways of thinking.
‍
Yet, the State of Minnesota remained steadfast in pursuit of its goals. They wanted to increase the Census 2020 response rate of all Minnesota households and, in particular, that of historically undercounted communities in the Census. They knew that the residents who could benefit the most from being counted are often the least likely to self-report. The state needed to pivot to a digital intervention to raise awareness of the Census and increase household response rates in the absence of grassroots or in-person community outreach efforts because, by the state's estimates, each person counted represents more than $28,000 in federal funds allocated to Minnesota residents each year according to the state. CommunityConnect Labs was poised to help.
An All-In Approach
CommunityConnect Labs' is a nonprofit with a mission that is fully aligned with that of the governments they serve, and in many ways, the team becomes an extension of their staff.
‍
"Throughout our 2020 Census outreach, we had many vendors, but only one partner. CCL was the partner. They were fully vested in our success," said Andrew Virden, Minnesota director of census operations and engagement. Virden said his organization tapped into the CCL's deep experience in the texting space. Given an overall budget that was a fraction of other states, he also appreciated the "cost certainty" the nonprofit brought to the project.
‍
At every turn, the team tapped into their expertise in the text messaging space. It wasn't enough to simply send a message and hope for the best. They worked with the Minnesota team to pull together data from many different state departments, then combine and clean those disparate lists. The CCL team tested and retested to ensure outbound messages were being sent to valid mobile phone numbers, that the content was tailored for a stronger conversion, and that the message was readable on a variety of devices. And they worked with mobile carriers on strategies to increase the deliverability of the outbound messages they sent.
‍
In partnership with the Minnesota team, CCL created an integrated set of custom mobile solutions. The Community Motivator helped activate lists of constituents through a digital pledge and automated reminders to ensure Census completion in 2020, while the HelpDesk answered residents' most pressing questions about the Census via text messages in English, Spanish, Hmong, and Somali. CCL also created a single outbound message to reach more than 1.4 million registered voters in fewer than 48 hours. The message included a link and phone number to complete the Census and a short motivational message to encourage them to participate.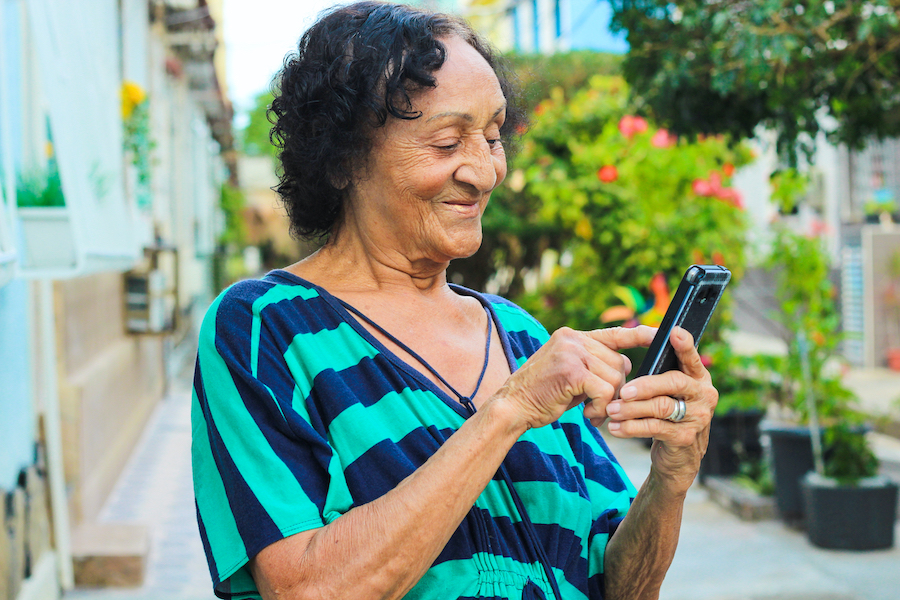 The End Result
CCL also brought extensive analysis that allowed the Minnesota team to fully understand, in a sophisticated way, the specific impact of the outreach they had conducted on the results. For example, CCL's analysis showed that its outbound messaging work alone helped Minnesota count an additional estimated 15,000 people. In addition, they successfully engaged hard-to-count communities at a rate that was 46% higher than similar hard-to-count census tracts in other states.
‍
Minnesota's self-response rate for the 2020 Census was 75.1 %, the highest in the country, while the national average for response rate was around two-thirds. The state also outperformed its self-response from 2010 by a whole percentage point.
‍
"Our direct text messages to residents gave us a bump in response rates that put us above other states, and we stayed there," said Minnesota State Demographer Susan Brower.
‍
Minnesota held on to both its congressional seats by a margin of 26 people counted. This was the closest margin that secured a congressional seat for a state since 1940.