Too Many Questions, Too Little Time
‍
Millions of questions about the Census were asked in 2010, and even more are expected in 2020. However, local government and library staff don't have the resources to address the volume and variety of questions or language needs of their constituents. Unanswered questions or inaccurate information can lead to individuals giving up on completing their Census form, leading to an undercount and limiting communities from getting the funding and representation they deserve.
The consequences of an undercount are huge: billions of dollars can be lost in federal funding, and political representation for communities could disappear.
To address the critical need to help constituents get their questions answered, CommunityConnect Labs developed the Question & Answer HelpDesk, an automated question & answer system available via text and web chat that can receive and answer users' Census questions in multiple languages. Developed in partnership with Microsoft, questions can be answered anytime and anywhere, within seconds.
Expand Your Efforts with Automated Support
‍
CCL's HelpDesk was designed to specifically address issues presented by the Census: Although the digital and language divides can be a barrier for hard-to-count communities to access information, the HelpDesk overcomes both.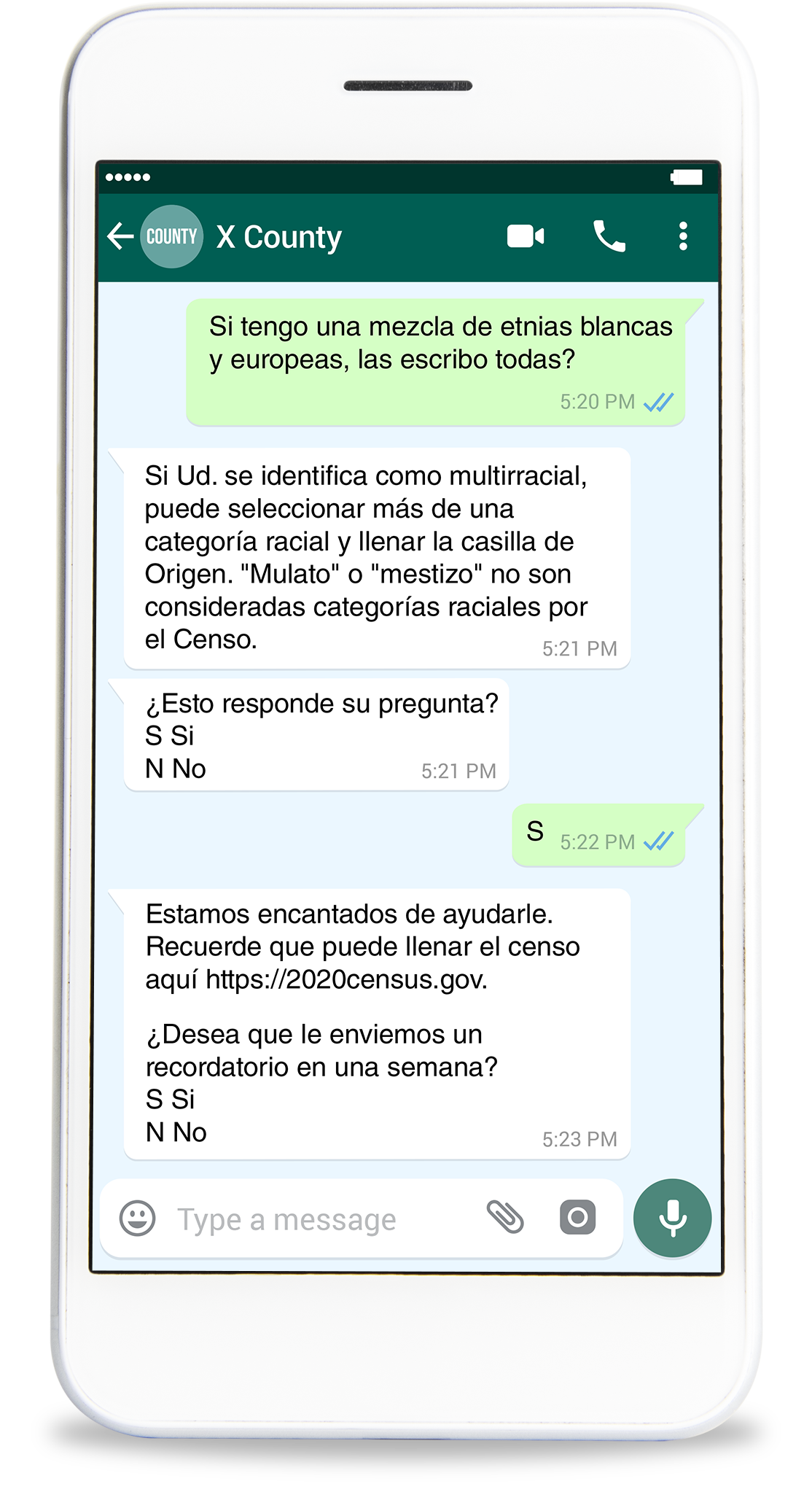 ‍Language Access: More than 300-plus languages are spoken in the U.S., but officially translated materials for the Census are limited. Our HelpDesk makes it as easy as possible to get answers in the language of choice (if available) by encouraging users to text in directly in that language — no language selection or translating from English necessary.
Addressing the Digital Divide: The HelpDesk doesn't require broadband access or a computer; it meets people where they are. It's accessible from any SMS-capable phone, or available on WhatsApp, Facebook Messenger, and more. Even though the HelpDesk can be made available on messaging apps, there is no download required to text in to the experience. For individuals who may use features of their texting platform to address accessibility (like voice to text, etc.), they can still employ those tools to access the HelpDesk.
Increase Your Staff Reach Without Hiring
‍
The HelpDesk can also be implemented on any website from libraries to city, county, state, or Census-specific sites. Once it's installed, people can ask questions through a chatbot and receive quick and confidential answers while they're filing out their online Census, freeing up staff to tend to those with the highest needs. With more than 20,000 crowdsourced questions, the HelpDesk tool can answer a diverse array of questions in everyday language and in multiple languages. Staff can even use the HelpDesk as a resource to help answer questions they may not have been trained to address.
Not Just a Chatbot, It's an Experience Too
‍
If an individual needs or wants more help, they can be directed to in-person assistance should they request it, based on their location and language needs. They can also opt in to receive automated reminders to complete the Census. All it takes is a simple text for a person to get their questions answered, and be reminded to fill out the Census to ensure they are counted in 2020. The HelpDesk is not only a chatbot, it is also an experience that empowers constituents to get their questions answered quickly, confidently, and on their own — all while lessening the burden on your staff.